Grapebreeders Home Page
Adalmiina (ES 6-16-30)
Developed by Elmer Swenson in mid-late 80 and never released with a name. Meeri Saario from Finland got it in the mid 90's and got permission to name this vine. She named it Adalmiina.

This variety is very disease resistant, though moderate winter hardiness to app. Ė 30 F. Berries golden and up to 22 Brix (90 Oe) TA 0,6 to 1,0% and pH up to 3.6 Clusters are medium in size up to 160g Wine style is like a French Muscadet, great for rich seafood. Can be a bit astringent in the finish. Wine has very good body with a light floral nose.

Heavy cropper, hermaphrodite and very early. 3 to 4 Brix (and 1-2 weeks) ahead of Esprite, St. Croix and Edelweiss.

Elmerís own notes 1997 on ES 6-16-30: White, medium size tender berries. Very vigorous & Productive. Very juicy and sweet. Winter hard. Very early.
BS - 45 miles west of Chicago: On August 20 we had fruit with 19.5 brix, 3.40 pH and a TA of 5.4 g/L. Nice acid pH balance. Very low brix was the rule last year for everything. It probably should have been harvested then but I was trying to hold it for a grower meeting. We soon lost it to yellowjackets. Aurore was almost identical numbers but higher TA (7.2 g/L). St Croix at that time was at 18.0 brix, 3.16 pH and 8.4 g/L TA. It's definitely early material.
MH: I also decided to go to the numbers and see how ES 6-16-30 has done here in cool northern Wisconsin (ave 1800 GDD 50F)
In 2005 :
On 20 Sept. 6-16-30 was at 18.4 brix. Notes: 'white, productive, not quite as ripe as sister ES 6-16-24 (21.4, ripe), but with slightly larger berries. Sister ES 6-17-37 (19.4 brix, not ripe). Not ripe yet.'
Other sampling on 20 Sept: St. Pepin 21.3, Regent 20.9, Louise Swenson 23.3, Foch 21, Frontenac 22.1 (2.6 pH)
In 2006 (quite warm year):
on 13 Aug 2006 - not at veraison, hard as a rock.
on 20 Sept. 2006, 'white, 20.1 brix, slight labrusca flavor, low-moderate acid' It was ripe.
Other sampling on 20 Sept 2006: St. Pepin 21.9, Foch 21.2
SP: We harvested it last weekend 8/5/07, the berries were golden, it was at 22 brix and PH of 3.6, we got 20 gal of juice from about 240 lbs. Very disease resistant, it was only sprayed once this year, and that was because we were spraying for Japanese beetles. You can tell it has Seyval in its parentage. This was the first year we cropped them, I would say they averaged about 15 lbs per plant. Tom Plocher has said that it doesnít like to give up its juice but we didnít experience that. Tom has also said it has been sometimes inconsistent in its behavior, taking 40 below F some years without damage, but taking damage in some years where it was not such extreme cold. Tom also says it makes a very good dry white like a French Muscadet, that just begs to go with lobster or other rich seafood. I can tell you more after we finish the wine, we split it into four batches of five gallons & are using different yeast on each.
Feb. 2008: We made four wines from it each with a different yeast, the best was with 1116 it made a very clean crisp wine that didnít need any adjustment our wine maker sweetened one of the others a little too much and one had a alcohol bite to it. Elmer gave Meeri Sarrof the naming rights he called Adalmiina. No hint of labrusca in anything. Very like a French muscadet like the MNgrapes site described.
Photo Stephen Payton
Parent chart by Carl: Click here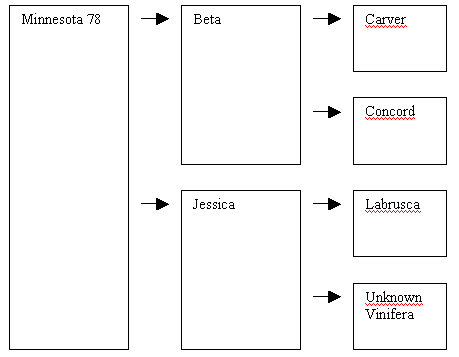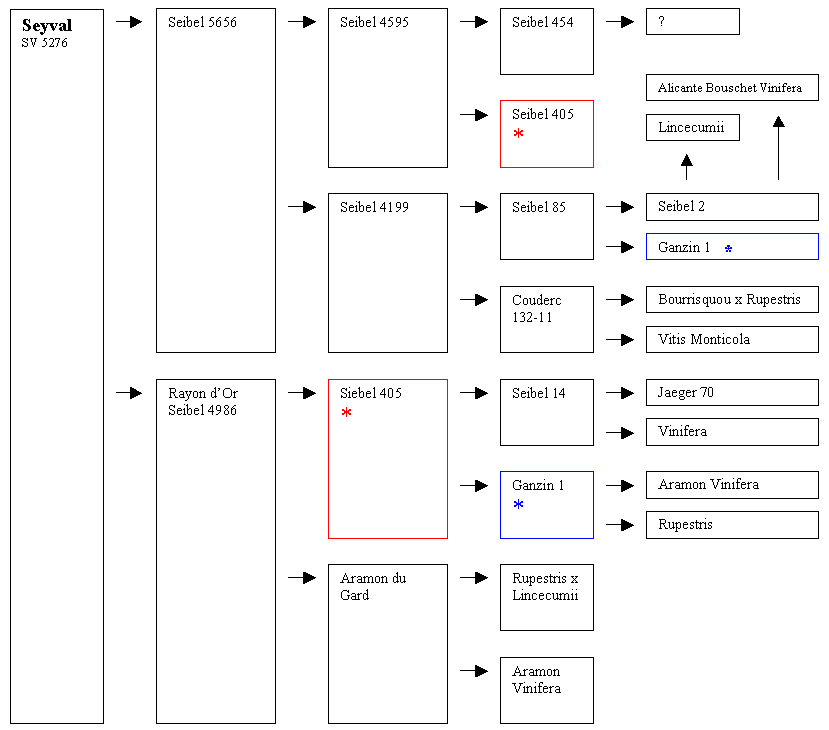 Editor Soeren Larsen